Product Description
AUS Injection highly recommends the buyer to verify the specifications below are appropriate for the engine modification project requirements.
Fuel Flow: 750 cc/min - 71 lb/hr @ 43 PSI
Impedance: 11.5 Ohms (Ω)
Connector: NIPPON DENSO
Fuel Compatibility: Gasoline, E85 & CNG.
This listing is for one set of 6 REMANUFACTURED PERFORMANCE RACING INJECTORS, specifically designed for the vehicle models listed here.
| Make | Model | Engine | Year |
| --- | --- | --- | --- |
| NISSAN | SKYLINE | RB25DET | 1993-1998 |
Offset Chart
Fuel Flow Report
This is a SAMPLE flow report included with the injectors, a printed report with measured data is included with each set.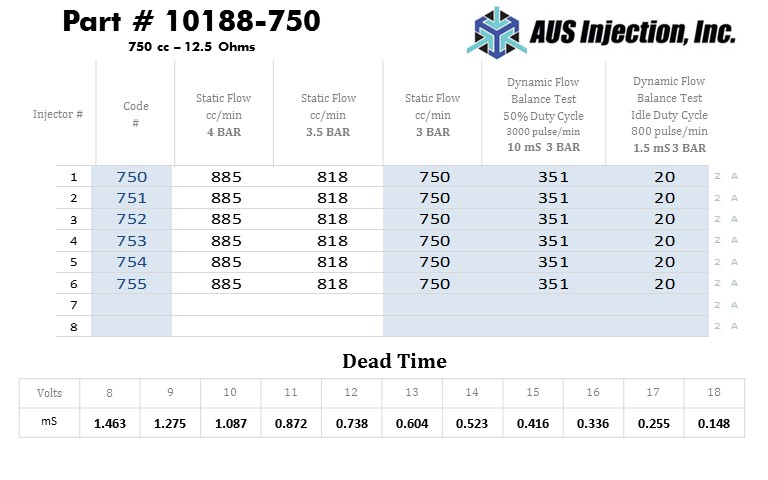 About AUS Injection
AUS Injection was founded in 1997 in Mesa, Arizona to provide stock Fuel Injector products and services for the Phoenix Metro Area auto-shops. Soon after, the Racing Performance Injector program was developed with assistance from Professional Race Teams and Performance Tuners, to create a wide variety of Racing Injectors and provide solutions to enthusiasts, tuning professionals and racers around the world.
Features, Advantages & Benefits of our Racing Injectors
AUS Injection catalogs the most complete line of direct fit performance racing injectors. Our flow matched injector sets are application specific and engineered to outperform the competition.
Specialty injectors are available with:
Flow Rates from 250 to 2200 cc/min.
Impedances from 2.5 to 12.5 Ohms.
Flow Matched Sets within ≤ 2% Static and Dynamic Flow rates.
Great quality at a great price along with a Worry Free Warranty makes AUS Injection the clear leader in Performance Racing Injectors.
Additionally, we ensure that the Coil Resistance Specification of each racing injector unit will exactly match with the original injector impedance. This means, perfect compatibility with the stock ECU. No problems, surprises and no disappointments.
Plus, 99% of AUS Injection Performance Racing Fuel Injectors are Exact Fit. This means; no adapters, spacers or connectors are required for a quick & professional installation. In those few applications requiring adapters or special connectors, they will be included at No Extra Charge.
Before packing & shipping, any order undergoes an exacting Quality Control Test. This assures that each injector has been individually numbered and tested to meet its rigid flow specs & electrical parameters as components of a matched set.
Our Flow Report lists each injector's Real Data including Complete Latency (Off Set / Dead Time table).
Warranty Information
We will warrant our Performance Racing Fuel Injectors for a period of ONE YEAR and Unlimited Miles. If during this period our injectors fail, we will replace them with a complete Factory Fresh SET at NO CHARGE to you. All you do is return them to us and we'll promptly ship your replacement parts… hassle- free!

But most importantly, we stand behind our products with the best Warranty Program in the Racing Performance Injector business. We're so confident that we supply a product you can count on to perform and to meet your expectations, we guarantee it in writing.

With 20+ years specializing in Fuel Injectors & related components, our products have gained world- wide acceptance and recognition. We have satisfied customers in the USA, South Africa, Australia, England, Germany, New Zealand and many more.
Find Similar Products by Category